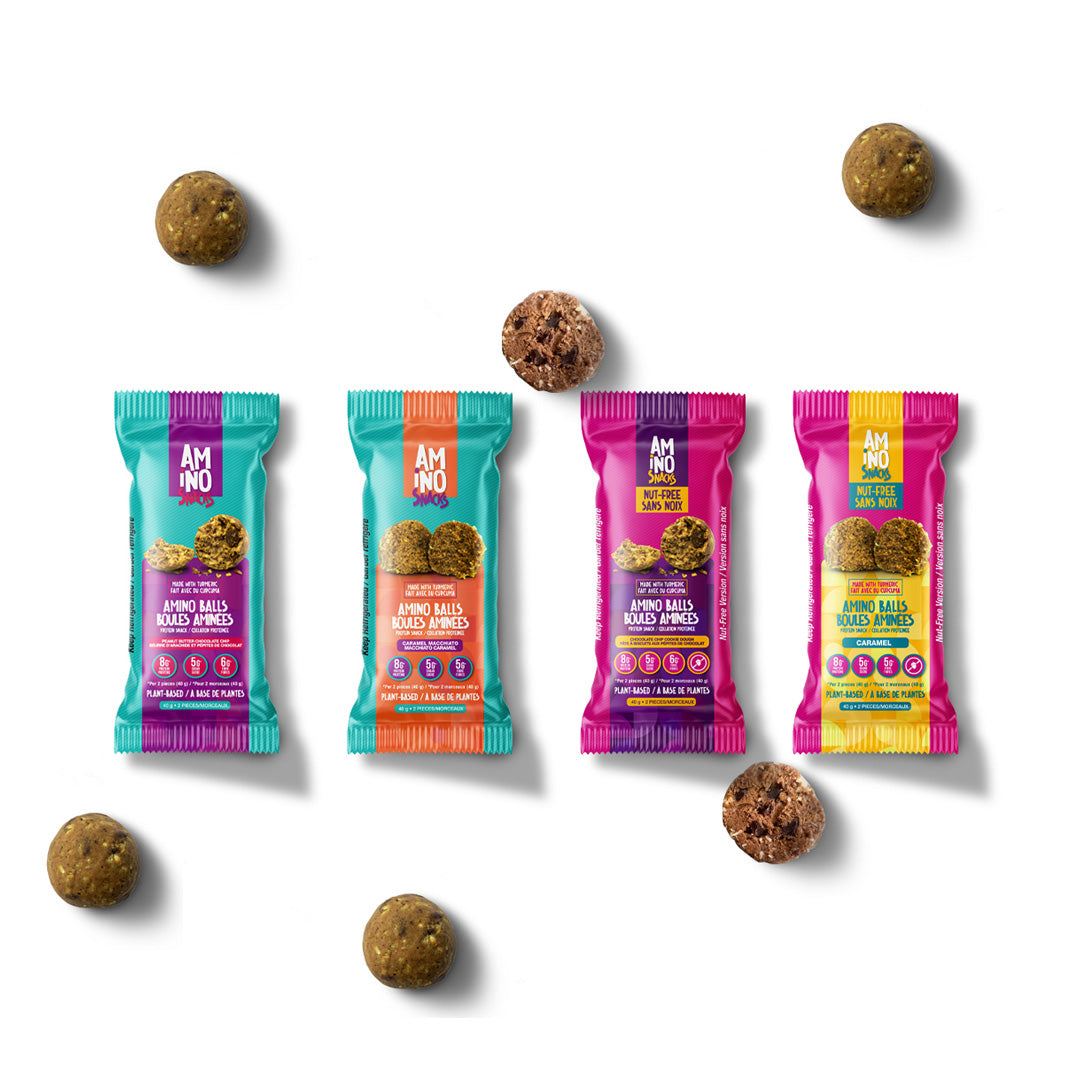 HEALTHY SNACKS THAT TASTE LIKE DESSERT
Get the nutrients you need without compromising your taste buds. We call them Amino Balls because they provide traces of all amino acids, making them a complete protein source. Finally, here's a snack that allows you to feel good about snacking!
SHOP AMINO BALLS
FIND YOUR FAVOURITE FLAVOUR IN OUR VARIETY PACK!
GOOD-FOR-YOU, AND THE WHOLE FAMILY SNACKS!

Or just for you – we're not judging 😉 – our variety pack offers two nut-free flavours, making it school-safe, as well as two nut-based and gluten-free flavours. The best of both worlds!

DISCOVER YOUR FAVOURITE FLAVOUR IN OUR VARIETY PACK

Are your taste buds leaning towards one flavour? Or multiple? We have you covered. We offer single boxes of your favourite flavour, bundles with extra savings, and a guarantee to have you asking for more!

ORDER AGAIN

We're not kidding about these being the best balls around! They are truly a healthy, satisfying, and guilt-free snack, that you can always feel good about. If you want to reorder, we offer autoship for one box at 10% off monthly, or two boxes at 15% off monthly.
WHOLESOME GOODNESS YOU NEED, WITHOUT THE COMPROMISE IN TASTE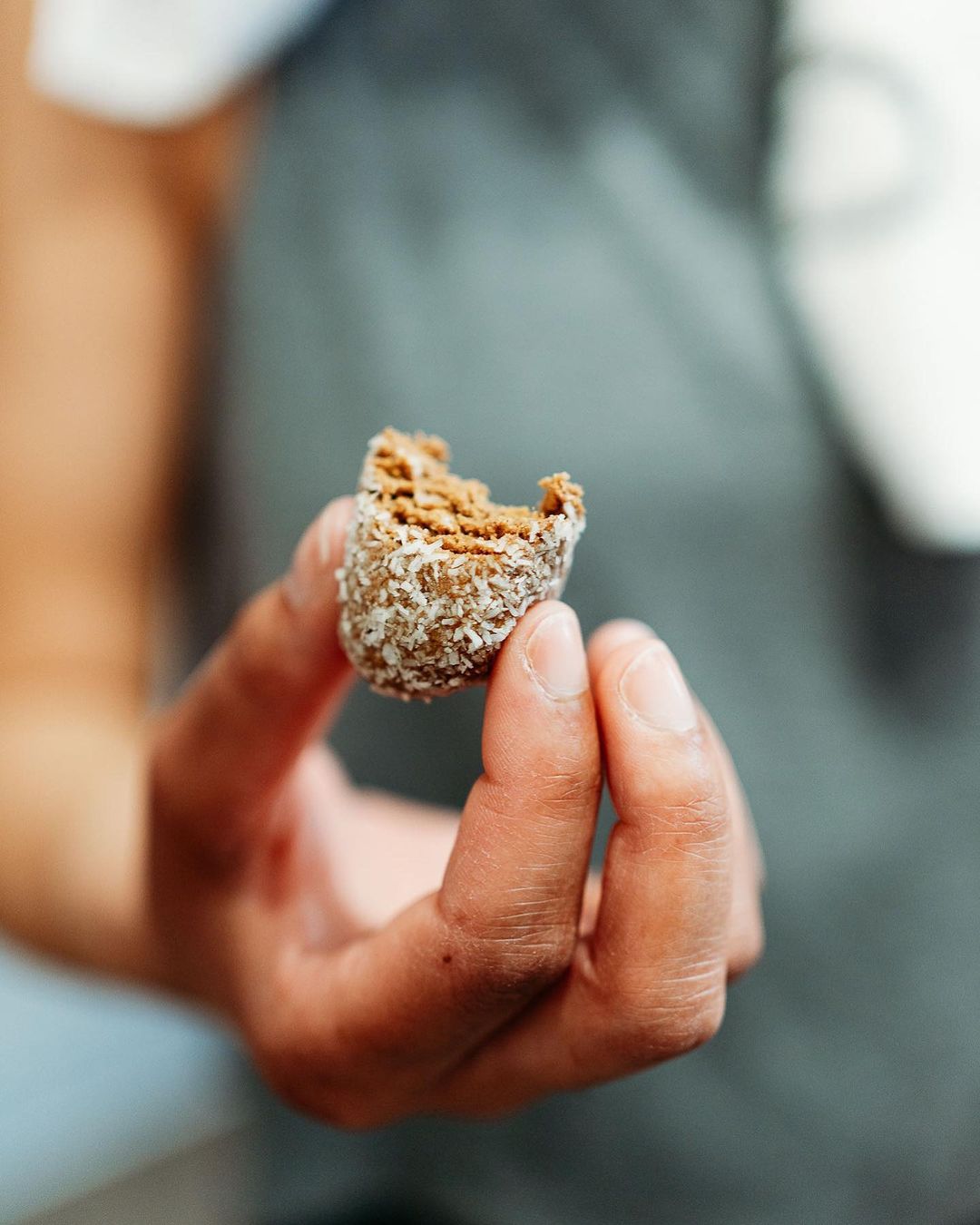 GOOD SOURCE OF PROTEIN

Our delicious bite-sized balls, provide 8g of protein from pea and hemp.
LOW SUGAR

Satisfy your cravings without the sugar overload! Our protein balls are thoughtfully crafted to be low in sugar, containing just ~4g of sugar per serving. Nourish your body with the goodness it deserves, and savour each bite, knowing that Amino Balls has your wellness in mind.
GOOD SOURCE OF FIBRE

Fuel your body with the natural benefits of fibre that keep you fuller longer. Amino Balls offers you a delightful snacking experience with our plant-based protein balls, containing a generous ~6g of fibre per serving.
GLUTEN-FREE

Say hello to our gluten-free snacking bliss! We understand how challenging it can be to find healthy snacks that satisfy your taste buds, which is why we offer two completely gluten-free flavours: Peanut Butter Chocolate Chip and Caramel Macchiato. Now, even those with gluten sensitivities can indulge in our delectable treats without worry.
KOSHER

Mazel Tov! We take pride in catering to the diverse needs of our guilt-free snacking community, and that's why Amino Balls are proudly kosher-certified. Whether you follow a kosher diet as part of your traditions or simply appreciate the quality and integrity it represents, our snacks are a perfect fit for you.
VEGAN

Welcome to a world where compassion meets taste, and join us on this plant-powered journey to better snacking! Whether you're a dedicated vegan, exploring plant-based options, or simply seeking a wholesome treat, our protein balls have got you covered.
GIVING BACK TO OUR FOUR-LEGGED FRIENDS

We believe in more than just guilt-free snacking; we're committed to making a difference in the lives of homeless dogs. With every purchase, you become a hero to these precious souls. Inspired by a heartfelt encounter with a stray dog named Star on the island of Turks and Caicos, our founder, Beata, made a promise to support charities like Helpaws. That's why 1% of all sales from Amino Balls go towards helping these charities provide care and find loving forever homes for street dogs.
HEALTHY, SATISFYING, AND GUILT-FREE SNACKING
WE HAVE THE BEST BALLS AROUND
Testimonial from a Type 1 Diabetic
START GUILT-FREE SNACKING TODAY!